Have you seen someone wearing a medical ID (Alert) bracelet? Do you even know what a medical ID bracelet looks like?
A medical ID bracelet is not an accessory but an important thing that could save someone's life.
It is worn by someone who has a serious medical condition and would alert the people around, especially first responders and medical professionals about the patient's health in case of an episode or unfortunate events. (1, 2)
(A medical ID bracelet made from silver and suede material.)
(A medical bracelet made from stainless steel and engraved the patient's name and health number.)
What is the purpose of a medical ID bracelet?
Some people are required to wear a medical ID bracelet because of the following reasons:
Its purpose is to alert medical professionals in the event of an emergency situation.
It provides quick information about your health, especially your medical condition, allergy, and medications you are taking.
It reduces the possibility of treatment errors.
It serves as your medical identity, especially if you become unresponsive.
First responders look for medical ID bracelet when responding in an emergency situation. The medical ID bracelet will alert medical professionals about your health as well as your personal information.
A medical ID gives the patients and their loved ones peace of mind knowing that immediate help is there in times of medical emergency. (1, 2, 3, and 4)
(A medical ID bracelet is worn by a diabetic patient.)
(A medical ID bracelet containing the patient's medical condition and allergy.)
Who should wear a medical ID bracelet?
Those with a chronic medical condition such as

Cardiac-related problems
Kidney failure
Pulmonary conditions
Diabetes
Blood-related disorders
Memory impairment such as dementia and Alzheimer's disease
Seizure disorder
Breathing-related disorders

Those who have food, drug, and insect allergies.
Those who are on maintenance medications.
Those who are taking blood thinners or anticoagulants.
Those children/people with special needs.
Those who have cancer.
Those who received transplant.
Those who are mentally impaired.
Those who have hearing or sight problems.
Those who are at risk for stroke.
Those who are participants for a clinical trial (3, 4, 5, and 6)
What information is included in the medical ID bracelet?
The medical ID bracelet contains vital information that will alert the first respondents about your health such as:
Name
Blood type
Diagnosis/medical condition
Allergy
Person to contact and contact details (5, 6)
Do medical professionals and first responders look for a medical ID?
Medical professionals including first responders and paramedics first look for a medical ID in times of emergencies. Medical IDs are not only limited to bracelets. There are also other forms. They are the following:
Medical ID jewelry indicating the wearer's medical information organization. It also contains a member identification number and the number of medical emergency personnel to contact to. The contact number is important as it helps you get in touch with a medical expert who can give accurate information about the patient's overall health condition.
A sticker that carries an NFC tag is one of the latest technologies in the medical field. In case of a medical emergency, the NFC tag is scanned to access the stored medical information.
Some patients tattoo their medical condition on their body, specifically on the wrist and arm. (6, 7, and 8)
When is the best time to wear a medical ID bracelet?
A person who has the health conditions mentioned above should make sure he/she wears the medical ID bracelet at all times. Not wearing it at all time may take away the opportunity to be given appropriate help in times of emergency.
Various institutions and organizations all across the globe recommend wearing a medical ID bracelet. These include the National Institute of Health, Center for Disease Control and Prevention, World Health Organization, and The National Association of EMS Educators, to name a few. (8, 9, and 10)
How much is the cost of a medical ID?
The cost of a medical ID bracelet varies depending on the brand and make. The basic medical ID bracelet costs under $15. Medical ID bracelet made from high-end material and containing a more comprehensive medical record costs more. (2, 3)
Is medical ID covered by your health insurance?
Your insurance provider may reimburse the cost of medical ID but it depends on your health plan. Ideally, the doctor will write a prescription for medical ID. You need to present the prescription as well as file an insurance form to your insurance company. In case, your health insurance provider does not cover the cost of the medical ID bracelet, you need to write a letter to your insurance provider. (1, 4, and 5)
Is a medical ID bracelet worth your money?
A medical ID, be it a bracelet or other forms is a necessity, especially in people with a multitude of health conditions. It may cost you money but it surely worth the investment.
How to get a medical ID bracelet?
If you have health insurance, you need to ask a prescription from your doctor. Once you have it, then you can proceed with your shopping. To get the best medical ID bracelet, you need to take into account the following:
Shop around – There are a lot of companies that sell medical ID bracelet. They vary in size and design. The cost varies from $15 to as high as $250. The price has something to do with the make, design, and type of materials used.
Consider your style – There are various styles of medical ID bracelets to choose from. More than the design, you need to take into account the comfort level. After all, you get to wear the medical ID bracelet every day and at all times.
Carefully fill out the order form – Some companies pre-engrave the ID before shipping it to you. So, make sure you fill out the form correctly, especially your name, medical condition, and the contact number of the person to contact to in case of a medical emergency. (3, 8, 9, and 10)
Below is our TOP 10 BEST choice for Medical ID Bracelets
#1: Universal Medical Data Silicone
Made from durable materials.
Waterproof.
Has a large engraving plate that can hold up to five lines of custom text.
Has a replaceable engraving plate.
#2: Stainless Steel Classic Bracelet
Made from durable stainless steel.
Has curved plate emblazoned with a medical emblem.
The medical information is engraved on the back.
#3: Lynx Onyx
It offers a classic twist on silver bracelet.
Has a black stainless steel band.
Comes with a medical emblem.
Can engrave up to three lines of medical information.
#4: Road ID Sport
Made from woven nylon.
Comes with adjustable hook and loop closure.
Comes with a laser engraved plate.
Has a red medical alert symbol.
Available in various colors and sizes.
#5: Vnox Bangle
It is highly polished which makes it perfect for office use or for formal occasion.
You can put up to three lines of text both at the back and front part of the bracelet.
Non-tarnish.
#6: Stainless Steel Large Silicone Flex
Perfect for people with active lifestyle.
It is sweat-proof and waterproof.
Comes with a large ID tag.
Available in various sizes.
#7: Queen Elizabeth Medical ID Bracelet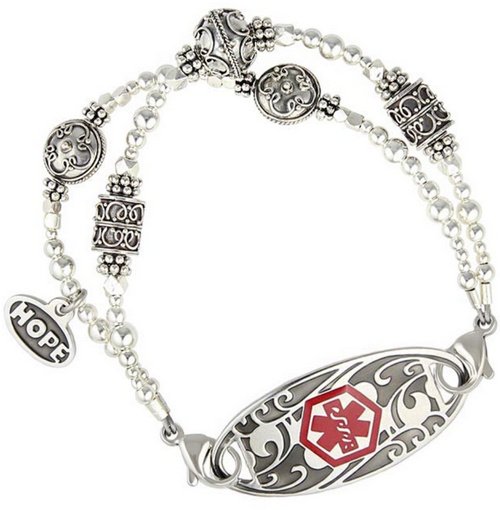 It is designed for women.
Comes with a stainless steel tag with a medical emblem.
Available in other designs such as gold and rose gold.
You can add up to five lines of medical information.
#8: JF Jewelry Braid
A fun friendship bracelet which is perfect for children.
Come with an easy magnetic buckle closure.
The medical alert symbol is prominent.
Available in pastel and neon color.
#9: Universal Medical Data Reversible Slim
Perfect for active users.
Medical alert symbol is on both side.
Comes with four color options.
High-contrast engraved black letters.
#10: Grande Corona Tennis Bracelet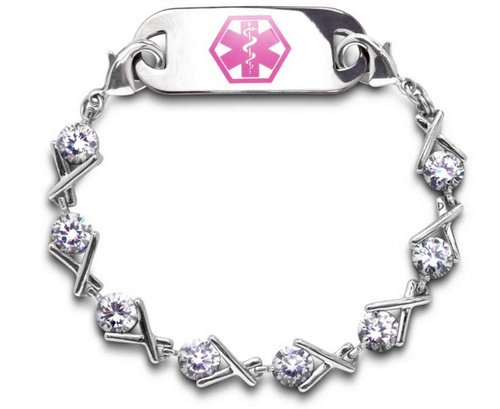 Sparkly and delicate.
Comes with cubic zirconia design details.
Comes in various tag plates.
Available in various sizes and colors.
Can add up to four lines of medical information.
References :

https://www.hopepaige.com/information/the-importance-of-medical-id-bracelets
https://www.medicalert.org/importance-of-medical-ids
https://en.wikipedia.org/wiki/Medical_identification_tag
https://www.stickyj.com/information/the-importance-of-medical-id-bracelets-for-children
https://www.watchdog911.com/importance-medical-alert-bracelets-emergencies/
https://www.americanmedical-id.com/help-with-engraving
https://www.themedicalstation.com/site/blog-doctor-north-york/2017/06/14/the-importance-of-medical-id-bracelets
https://www.prohealthpartners.org/medical-ids-the-most-important-piece-of-jewelry/
https://www.universalmedicalid.co.uk/frequent.php
https://www.laurenshope.com/what-to-engrave-on-your-medical-alert-jewelry